Lauren Gawne recaps last night's Linguistics in the Pub, a monthly informal gathering of linguists in Melbourne to discuss topical areas in our field.
This week at Linguistics in the Pub it was all about technology, and how it impacts on our practices. The announcement for the session briefly outlined some of the ways technology has shaped expectations for language documentation:
The continual developments in technology that we currently enjoy are inextricably connected to the development of our field. Most would agree that technology has changed language documentation for the better. But while nobody is advocating a return to paper and pen, most would concur that technology has changed the way we work in unexpected ways. The focus is usually on the materials we produce such as video, audio and annotation files as well as particular types of computer-aided analysis. In a recent ELAC post, 'Hammers and nails' Peter Austin claims that metadata is not what it was, in the days of good old reel-to-reel tape recorders. The volume of comments suggests that this topic is ripe for discussion. This session of Linguistics in the Pub will give us a chance to reflect on how our practices change with advances in technology.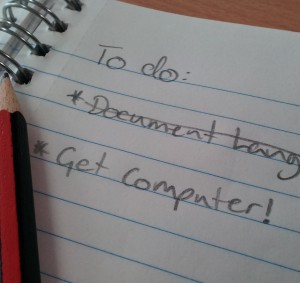 There are a (very) few linguists who advocate that researchers should go to the field with nothing beyond a spiral-bound notebook and a pen, though no one at the table was quite willing to go that far; all of us, it seems, go to the field with a good quality audio recorder at the very least. Without the additional recordings (be they audio or video) the only output of the research becomes the final papers written by the linguist, which are in no way verifiable. The recording of verifiable data, and the slowly increasing practice of including audio recordings in the final research output are allowing us to further stake our claim as an empirical and verifiable field of scientific inquiry. Many of us shared stories of how listening back to a recording that we had made enriched the written records that we have, or allow us to focus on something that wasn't the target of our inquiry at the time of the initial recording. The task of trying to do the level of analysis that is now expected for even the lowliest sketch grammar is almost impossible without the aid of recordings, let alone trying to capture the subtleties present in naturalistic narrative or conversation. Continue reading 'Technology and language documentation: LIP discussion' »