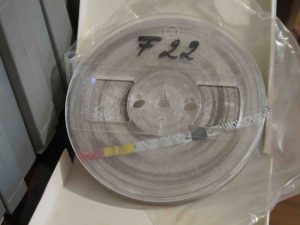 Recently the call came to the Sydney office of PARADISEC that a collection of tapes had arrived in Melbourne that needed some cleaning (see the earlier post here). The tapes were from Madang in Papua New Guinea and had been recorded in the 1960s. They contained valuable and rare records of language and music of PNG.
When the tapes arrived they were visibly covered in a white mould and so the PARADISEC audio preservation team moved into action to remediate the tapes ready for digitisation.
Mould is a common form of contamination of magnetic analogue tape that creates problems as the infected tape will not give a clear signal when played back. Even a small speck of dust or mould can cause a gap between the tape and the head resulting in a drop out of sound.