Steven Gagau spoke with Michael Chow from the ABC Pacific Radio show Nesia Daily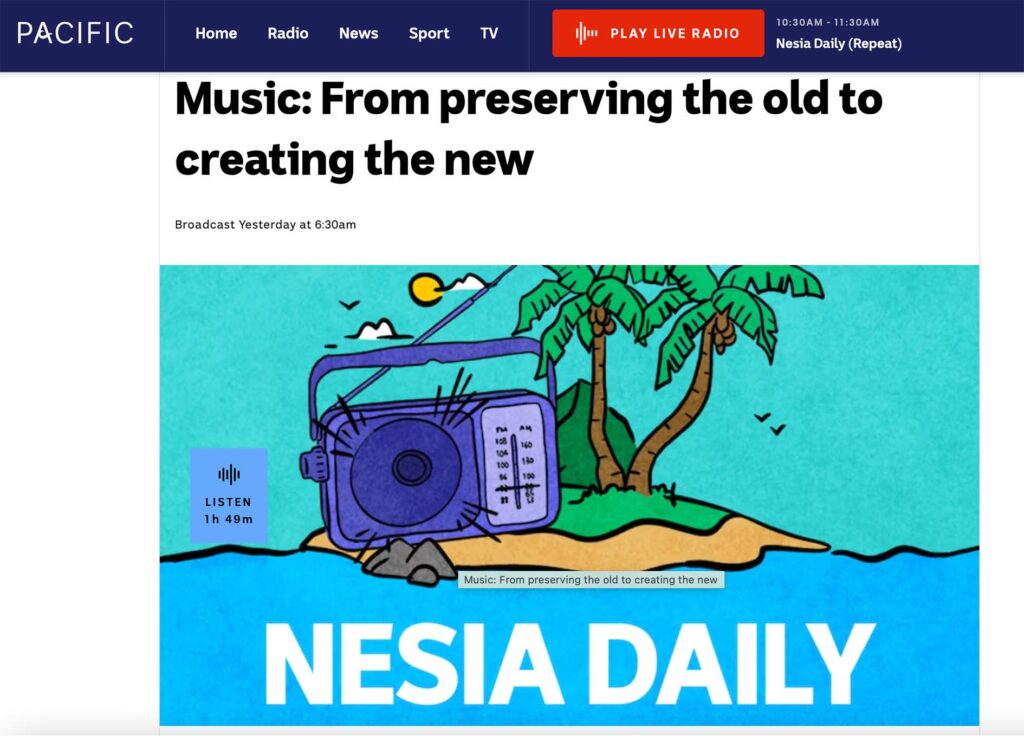 Nesia Daily provides news and entertainment from around the Pacific on the ABC Pacific radio. The show focuses on Pacific Island people doing interesting and inspiring things both in the Pacific and Australia. In this episode Michael Chow interviews Steven Gagau about his role at PARADISEC as part of the Encyclopedia Pasifika segment which aims to spotlight the culture and the history of the Pacific.
Michael Chow opens with a reflection about his own experience of recording the words, stories, language and songs of his Grandfather in 2014 on Bipi Island, west of Manus Island in Papua New Guinea. He says the recording is immensely valuable because his grandfather has since passed away and this is a record of culture for future generations, including his nephews who have grown up in the diaspora. While technology has made it a lot easier to preserve cultural knowledge and memories like these, Michael comments how magnetic tapes and reels are rapidly becoming unplayable due to the tape deteriorating and the machines becoming obsolete.
In discussing Steven's cultural heritage as a Tolai of the Gunantuna people of New Britain Island in Papua New Guinea, Michael asked him how he came to be working at PARADISEC. Steven's background as a telecommunications engineer turned around when he became involved in the Wantok diaspora community in Australia. "I'm involved in culture a fair bit, with galleries, museums and the archive. I just feel this is where I can use life skills to connect with people with cultural knowledge and sharing." In this way, Steven is reaching back to his home and connecting back to his culture.
Steven outlines the issues for preserving and digitising magnetic tapes which have often been stored in hostile environments. He gives the example of the recordings made by Australian film sound recordist Jeff Doring of the Bedamini speakers of the Nomad region of Western Province of Papua New Guinea in the early 1970's. Jeff had nearly 300 reels and Steven describes how a fire at Jeff's home threatened the recordings. He fortunately saved them and Steven and the team met Jeff at his storage shed in Sydney in early 2023. We are now digitising the recordings which will soon be available as the JD1 collection in the archive.
Michael asks Steven, "Our Pacific culture has lasted this long through oral tradition passed down over generations, how do you think these recordings will help our people going forward?" and this leads to a discussion about modern times. "I will say like it can only be viewed or remembered, but it stays in the tombs of history, you can never regain, recover or reconnect if you are not careful about sharing or documenting it, that's the key work. And for me digital documentation is important as that's the future, that's modern times, so we need to kind of change our mindset and focus toward digitisation."
Listen to the full interview by clicking the link above.
Throughout the interview you can hear excerpts of music files from the PARADISEC digital archive. They are listed in the table below, curated by Steven Gagau.
The links will take you directly to the items in the online collection.
| | |
| --- | --- |
| Audio # | Description and Archival Links |
| INTRO | Music provided from Source: Michael Chow – ABC |
| #1 | Traditional Song and Dance "Meke" of Fiji. Collected by Albert Schutz, 1961, performer names unknown. Full PARADISEC item details available at: https://catalog.paradisec.org.au/collections/AS2/items/010 |
| #2 | Makira Stringband, Shefa Province, Vanuatu, Namakura language. Collected by Wolfgang Sperlich, 1985. Full PARADISEC item details available at: https://catalog.paradisec.org.au/collections/WS1/items/006 |
| #3 | Traditional Prophet songs (Peroveta) in church music of PNG south coastal mainland and Papuan islands. Central and Milne Bay Provinces, PNG. Collected by Murray Groves, 1973, performer names unknown. Full PARADISEC item details available at: https://catalog.paradisec.org.au/collections/MG1/items/008 |
| #4 | Chanting song with bamboo panpipes of Bougainville, PNG. Collected by Don Laycock, 1980, performer names unknown. Full PARADISEC item details available at: https://catalog.paradisec.org.au/collections/DL1/items/064 |
| #5 | Traditional Tolai Tubuan Song and Dance "Tapialai" performance of East New Britain Province, PNG. Collected by Michael Webb, 1993. Full PARADISEC item details available at: https://catalog.paradisec.org.au/collections/MW6/items/084 |
| #6 | Traditional singing from New Caledonia, group performance at the Suva Festival, Fiji. Collected by Mary Patterson, 1972, performer names unknown. Full PARADISEC item details available at: https://catalog.paradisec.org.au/collections/MP1/items/002 |
| #7 | Iatmul-Kandingei – Traditional Drumbeats (wooden slit drums) from north coastal mainland region of PNG. Collected by Bob MacLennan, 1972, performer names unknown. Full PARADISEC item details available at: https://catalog.paradisec.org.au/collections/BM1/items/Iatmul55 |
| #8 | Traditional Songs – chants to ancestorial spirits in Polynesian culture of Rennell & Bellona Province, Solomon Islands. Collected by Solomon Islands National Museum (SINM), 1977, performer names unknown. Full PARADISEC item details available at: https://catalog.paradisec.org.au/collections/SINM/items/77_7 |
| #9 | School Assembly Singing at Samoan Teachers Training College, Apia, Samoa. Collected by Murray Groves, 1973. Full PARADISEC item details available at: https://catalog.paradisec.org.au/collections/MG1/items/007 |
| OUTRO | Music provided from Source: Michael Chow – ABC |