Linguistics in the Pub (LIP) expands beyond Australia, with Linguistics in the Pub in London (LIPIL). Our first LIPIL will be:
Fieldwork in multilingual communities (Guest participant Dr. Ruth Singer)
Date:             Monday 7th September 2015
Time:             6:00 – 8:00 pm
Venue:           Upstairs room, The Lamb (94 Lambs Conduit Street, Bloomsbury, London, WC1N 3LZ)
Food and drinks available at the venue.
Contact Lauren Gawne with any questions: lg21@soas.ac.uk
You can receive future LIPIL announcements by signing up to the RNLD mailing list: http://www.rnld.org/node/5
UPDATE: We now have a LIPIL Facebook page for updates, and you can RSVP
LIPIL is an occasional gathering of language activists and linguists in London and serve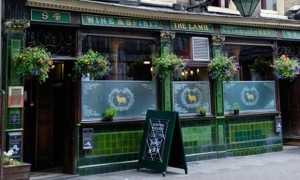 s as an informal forum for the discussion of languages, linguistics and related issues. We plan to meet roughly once a month and discuss a particular theme or issue that is of interest to the group. It builds on the LIP concept which originally began in Melbourne, Australia and has spread to other places in that country, and now to the UK. LIPIL is coordinated by Lauren Gawne (SOAS, University of London) and is open to everyone who is interested. We're currently looking for people who might be interested in helping to organise LIPIL, or write summaries of each of the events for the Endangered Languages and Cultures blog.
Our first LIPIL is the evening before the conference African Multilingualism: Motivations, modalities, movement and meaning. In keeping with the conference themes we'll be discussing language documentation in multilingual societies. We will discuss the different ways that multilingualism may be present in communities small and large, urban and rural. We will also discuss the practical implications for fieldworking linguists and communities, for projects with a range of aims including language documentation projects, sociolinguistic description and experimental linguistics. We will be joined by Dr. Ruth Singer (The University of Melbourne) who works with small but highly multilingual community in north-west Arnhem Land in Australia. Ruth has also run the Melbourne LIP for several years, and will be participating in the African Multilingualism conference.