On 27th and 28th February we will be running a workshop at SOAS in London to discuss theoretical and practical issues concerning beliefs and ideologies on endangered languages, with a special focus on the implications they have for language support and revitalisation.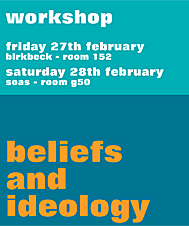 Language ideologies have been described by Jan Blommaert as 'socioculturally motivated ideas, perceptions and expectations of language, manifested in all sorts of language use'. He goes on to suggest that 'there is now a widespread recognition of language ideologies as a crucial topic of debate when it comes to assessing the motives and causes for certain types of language change'. The study of language ideologies and beliefs may therefore provide insights into the reasons for language shift and/or revival, and may help to determine the success or otherwise of language revitalisation projects. At the workshop we will be looking at several issues:
Are endangered languages fundamentally different from other languages when it comes to beliefs and ideology?
What, if any, are the consequences for language support and revitalisation of the beliefs held by speakers of endangered languages?
To what extent can beliefs and ideologies be influenced by campaigning and language planning?
What beliefs and ideologies do linguists have about endangered languages? Are these in conflict with those of communities?
Fishman speaks of the need for "establishing ideological clarity" before any revitalisation project can begin. How is this best achieved?
There will be four keynote speakers at the workshop:
Jane Freeland, University of Southampton: 'Considering popular language ideology in revitalizing the language of the Mayangna of Nicaragua's Caribbean Coast'
Lenore Grenoble, University of Chicago: 'Conflicting ideologies and beliefs in the field'
Tadhg Ó hIfearnáin, University of Limerick: 'Shared language management goals, differing beliefs and unexpected outcomes'
Bernard Spolsky, Bar-Ilan University: 'Language beliefs and the management of endangered languages'
and a further 14 papers have been scheduled for presentation (see programme). The talks will cover language situations in all continents around the world, and a wide range of social and political contexts.
If you wish to attend the workshop the enrolment details are here — note that the "early bird" registration closes on 6th February, so register now if you want to save a few pounds.