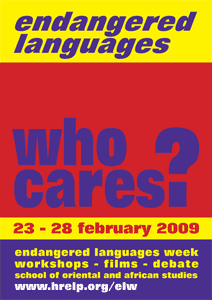 After the success of last year, we are running Endangered Languages Week 2009 at SOAS from 22nd to 28th February. The theme this year is "Endangered languages: who cares?"
Endangered Languages Week will presents a variety of displays, discussions, films, and workshops to provide a view of what is happening to languages around the world and what is being done to document, archive and support endangered languages at SOAS and elsewhere. Activities will include:
Annual Public Lecture – Bernard Spolsky on "Rescuing Maori: the last 40 years"
Meet an Endangered Language – a series of short presentations on several endangered languages, where you can learn about where they are spoken, why they are threatened, and experience their culture – as well as learn some basic words and phrases. This year we feature Eleme, Guernésiais, Khanty and Gamilaraay.
Open Day – we open our doors so visitors can meet researchers, see displays of staff and student work, and experience the latest technologies used to record, archive and support endangered languages
Debate. Languages vs species? – A debate on priorities of preservation in an endangered world.
[ Click for full-sized poster]
Postgraduate students will present their work in poster sessions
A two day workshop on Beliefs and ideology on endangered languages (see also here)
a day of international films on endangered languages
displays from other organisations involved in endangered languages activities
Most events are free of charge and open to anyone who is interested in endangered languages. A full programme of events is available (you can download a pdf here). We look forward to seeing you with us during the week in London.