Today I have a story to share that involves intellectual property violations, taking materials without attribution from a copyrighted dictionary of an Australian indigenous language, and publication of a book that contains such bad scholarship, ridiculous claims, nonsense, and stupid howlers that it is actually funny.
Over the past couple of years I have presented sessions at various workshops and training courses (most recently at a grantee training workshop held at SOAS 11-17th June) on the topics of "ethics, intellectual property rights and copyright". I have learnt a bit about copyright and moral rights in the process – my Powerpoint slides for the most recent presentation can be found here.
One of the issues that is often raised by fieldworkers and researchers during these presentations can be summarised as: "I don't want to make my data publicly available because someone will steal it and publish it under their own name". I usually reply in terms of the low likelihood of such an event happening (as Andrew Garrett said at an archiving workshop at the January 2008 Linguistic Society of America annual meeting (and I paraphrase): "Sorry to tell you this, but actually no-one wants to steal your data") and the protection afforded by copyright and moral rights (mentioning the World Intellectual Property Organisation and various other lobby groups).
Well, unfortunately, I have to change my tune, folks, because it has happened to me. A subset of materials which I have published in book form (and deposited as Word .doc files with the ASEDA archive) and co-published with David Nathan on the web as the Kamilaroi/Gamilaraay Web Dictionary that are all clearly marked as copyright have been reproduced without attribution or recognition of our authorship both on a website and in a recent book publication. Fortunately, they have been done in such as way as to reveal the ignorance of the violator that is truly laughable. Sadly, this individual is attempting to profit financially from both our intellectual property and that of an Australian Aboriginal group, along with potentially damaging the trust we have built up by years of work with the community.
The story goes like this.

Professor Phillip M Parker PhD, Professor of Marketing at INSEAD "The Business School for the World" (based in Fontainebleau, France) has established a website called Webster's Online Dictionary, using the term "Webster's" which is now out of copyright. Note that this has nothing to do with Merriam-Webster, a highly reputable dictionary making firm.
The blurb about Parker's website goes as follows:
"The goal of Websters Online Dictionary is to give all people of the world free access to a complete mapping of all known words to and from all written languages. In fulfilment of this goal, Websters Online Dictionary also offers as much information as possible for each word, including definitions, translations, images, trade name usage, quotations, and encyclopedic knowledge."
On the website it is possible to access wordlists in a wide variety of languages (see Note 2).
In addition to the web materials, Parker also publishes books which are marketed via Amazon and Target (in the US) and which purport to be "thesaurus dictionaries" of a range of languages. David Nash, who brought Parker's website to my attention, pointed out to me that one of these languages is Kamilaroi (more commonly and correctly known as Gamilaraay), a language traditionally spoken in north-west New South Wales that I have been working on since 1972 (an article I wrote on the history of research on Gamilaraay appears in the book by Bill McGregor that I blogged about recently).
So, I thought, how interesting to discover that there is a new Kamilaroi English Thesaurus Dictionary that has just been published, and curious to see its contents, I duly placed an order with Amazon.co.uk, paid UK£17.38 (that's roughly A$35) and waited for two weeks for the book to arrive.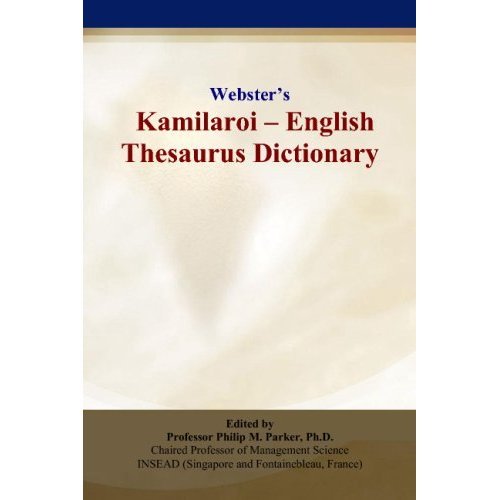 And what an unusual and funny little piece of work it is. For my A$35 I got a little A5 book of 65 pages that contains a Preface, Kamilaroi to English Thesaurus, Index of English Subjects to Kamilaroi Subjects, Vocabulary Study Lists, and an Index. Nowhere is the identity or location of the Kamilaroi language given, nor the fact that it belongs to the Gamilaraay people of northern New South Wales. There is nothing about the spelling of Kamilaroi words, though the spelling system follows exactly that established in my publications.
The Preface begins with a truly silly statement (probably inserted from some boilerplate):
This is an English thesaurus designed for Kamilaroi speakers who wish to better understand the ambiguities and richness of the English language"
Sorry, mate, but every Gamilaraay person is perfectly at home in English and doesn't need your little book to help them, certainly not at A$35 a toss, and not based on "444 Kamilaroi subject words".
The "Kamilaroi to English Thesaurus" is a list of 444 Gamilaraay headwords followed by a single word English gloss, or in some instances numbered multiple glosses. This information is taken straight from the web dictionary (or from my Gamilaraay Reference Dictionary published in 1993). This looks like stealing, you might think, but under a strict interpretation of copyright (which Prof Parker has no doubt checked with a lawyer) this is not "creative work". It is not possible to copyright common knowledge such as words and meanings. Unfortunately for Parker, some of the quoted forms, like muRumuRu on page 11 are creative works since they are reconstitutions which I have posited on the basis of 19th century published and unpublished amateur recordings (as explained in the preface of my dictionaries — note that the orthographic R is not a Gamilaraay sound but a cover term for where I could not determine whether the source represented a flap rr or a continuant r). Now that is copying of creative work without attribution, in my view.
Following the gloss there is a string of "synonyms" and, for some entries, "antonyms" which have apparently been computer generated by a program that is seeded by the gloss. This is where the author's bad scholarship truly comes into play. Here is the entry for bindaya a word borrowed into Australian English as "bindieye" but it, and the word 'burr' in the sense of a prickly weed, is clearly missing from Professor Parker's computer program lexicon:
bindaya burr; synonyms (n) flash, beard, brogue, burring, bramble, drawl, enunciation, inflection, intonation, pronunciation, twang, clinker (v) bur, clank, clink, jangle, pipe, creak, grate, jar, snub (adj) awn, catchweed, cleavers, clivers, goose, grass, hackle, hairif, hatchel"
Look out for those slurred bindieyes when you open your mouth next!
The remaining 443 entries are more-or-less of this type – a useless list of English words that bear little or no connection to the meaning of the Gamilaraay headword and that do not respect its morpho-syntactic category (headwords that contain a hyphen plus conjugation maker, like baaya-li 'to chop' are verbs in Gamilaraay but they still get noun glosses in this book). I was interested and surprised to learn that there are aardvarks and pangolins in Australia (listed as synonyms in the entry for bigibila 'echidna'). And so it goes for 19 pages.
The following "Index of English Subjects and Kamilaroi Subjects" is simply a listing of the English glosses with Gamilaraay headword repeated from the first 19 pages. Again this material is taken from my publications. The "Vocabulary Study Lists" are listings of Gamilaraay headwords with English gloss classified into groups as "Verbs", "Nouns" and "Adjectives" (again done with poor scholarship — 'black swan' baRamal (a reconstitution, again) is listed under "Adjectives"). The book ends with a 34 page index giving page references for the English words that appear in all the preceding sections.
When I started reading this sad little book I felt angry, but when I got to the end of it I realised it is so badly done that I had to laugh.
So where does this leave us in relation to copyright and publication without attribution? I believe that what Parker has done is an aberration and that true scholars do not disrespect other scholars' work in this way (nor disrespect the communities whose languages we seek to document). Also, by making the Gamilaraay dictionary available on-line and depositing the materials with an archive, we are able to demonstrate clearly that our work has been made use of, and intellectual property rights violated. So my advice is do go ahead and publish your work — that's how you establish copyright and get to assert moral rights. If or when they are abused then point this out publicly, as I have done here.
Oh, and don't waste your money buying copies of Parker's terrible book. It just encourages him.
---
Note 1: Thanks to David Nash for telling me about Parker's website and books and for corrections and comments on an earlier version of this posting. Thanks also to David Nathan both for digging around inside Parker's website and for correcting and commenting on an earlier draft of this blog. Neither David can be held responsible for the opinions expressed here.
Note 2: The terms of use state (rather ironically as it turns out):
"Students: If you are a student and want to use some of the sites content for a classroom assignment please feel free to cut and paste sections off of the web site, and paste them directly into your document. All of the pages are Microsoft Word compatible. Remember to include the "Source" at the bottom of the tables so your teachers cannot accuse you of plagiarism."
On this page we find:
"Copyright Notice: This site and its contents are Copyright 2004, Philip M. Parker and Webster's Online Dictionary (websters-online-dictionary.org). All rights reserved. All contents cited with permission, with license, or quoted under fair use doctrine remain the intellectual property of their respective originators. Other contents are in the public domain, and are used with attribution."
Pity that what is good for the goose isn't so good for the gander!