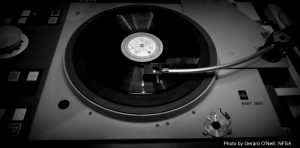 This is the story of institutional collaboration at its best.
In 2013 Bill Palmer sent through a list of 78 rpm discs held by the National Library of Australia, summarised in their catalog as follows:
"The collection consists of two albums and 20 single sound discs, word lists, slides and photographs. Records include specimens of native languages of the British Solomon Islands Protectorate; speech of Hagen natives; gospel recordings; and titles in Fijian, Babatana, Owa Raha, Bilua, Marovo, Dobu, Ungarinyin, Hula, Tavara, Motu, Johore Malay, Western Sumatra Malay, Wedau and Police Motu. Brief typescript word lists are included with the Motu, Hula, Tavara, Dobu and Babatana sound discs. There is an English-Owa Rahan vocabluary for the Owa Raha disc."
We sent a request to the NLA with whom PARADISEC has always had a close working relationship. They agreed in principle and then we had periodic contact about this. In July 2015 we approached the National Film and Sound Archive who have the necessary playback equipment. Further to-ing and fro-ing of emails finally resulted in agreement from the NLA in June 2016.