Finding tapes that need to be digitised often involves some detective work. Recently, while waiting for a dropoff of tapes (yes, in car park 3), I mused on the noir nature of the work and came up with this vignette.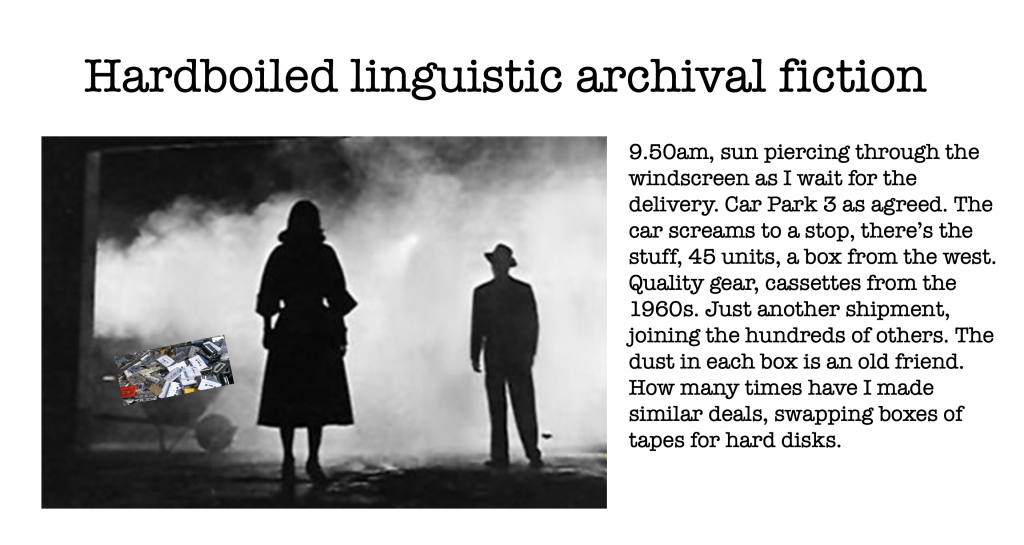 Perhaps the trickiest collection I've dealt with was one created by Fr John Z'graggen in the 1970s, and housed at the Basel Museum in Switzerland. I started negotiating with the Museum curator in 2011, after getting information about the tapes from Prof Andy Pawley in 2007.
The former curator, Christian Kaufmann, warned me that it would be like getting information from officials in the GDR, and he was right. His successor decided the tapes were just fine in the cupboard where they were stored and no access was provided for a couple of years. But then a new curator saw the importance of digitising the collection. With funds we sent from CoEDL she took parts of the collection to Nijmegen in 2015 and 2016 over several train trips, where our colleagues at the Max Planck Institute kindly digitised the tapes, eventually sending us the hard disk of files. These became the Z'graggen collection of 171 recordings.
Another memorable exchange followed an mail that said: "We are in possession of a collection of records which contain sermons preached by a Methodist missionary in the Babatana language, from Choiseul Solomon Islands. They were recorded between 1954-1963. Do you have any suggestions about what can be done with them?"
This collection of 3-inch open reels needed to get from Auckland to Sydney.
I was in Auckland on a Saturday afternoon between 2pm and 6pm en route to Australia and met with the depositor at the airport to pick up the tapes. They were in poor condition, the edges were 'cupped' which meant the tape looked like it had frills. Nevertheless, Nick Fowler-Gilmore managed to extract a reasonable signal from the tapes and they became the Nancy Carter collection.
Once, when I had collected some tapes in Drehu from a colleague in Noumea, I was on the plane back next to a biologist who specialised in fungi, so I asked him if it was problematic to be bringing mouldy tapes into Australia, worried that they could be a prohibited import. He said that tape mould was likely to be as benign as bread mould, not problematic except that the inhaled spores can be an irritant. Those tapes became the LS1 collection.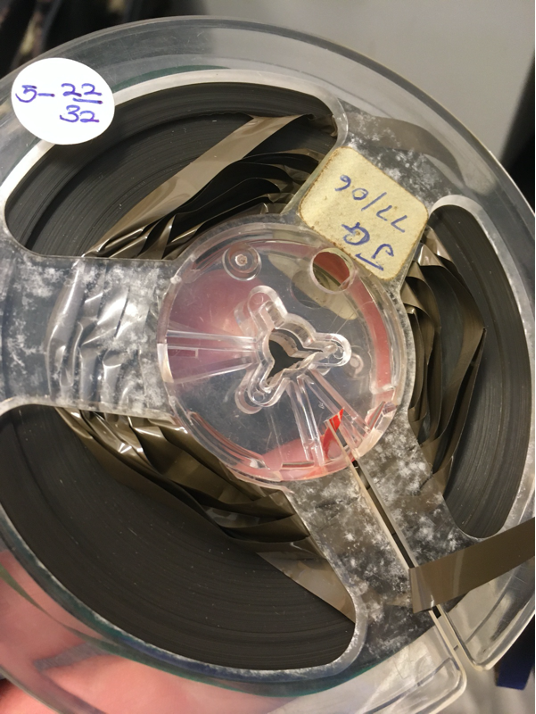 Another major collection with ongoing work is the Vanuatu Kaljoral Senta's reels and cassettes. These are stored in the 'tabu' room at the VKS building in Port Vila, but, with no open reel playback equipment the reels are in desperate need of digitisation. I got a Legacy Materials Grant from the Endangered Languages Documentation Programme to bring tapes back and they have now become the VKS2 collection. A hard disk of files went back to Vila with the original tapes. I got more tapes on a more recent visit, but there is no funding for them. On the left is a great example of the state of some of these tapes. Despite looking like it should be unplayable, below is a sample of the audio that was recovered from this tape (thanks to Nick Fowler-Gilmore for his work on fixing the tape).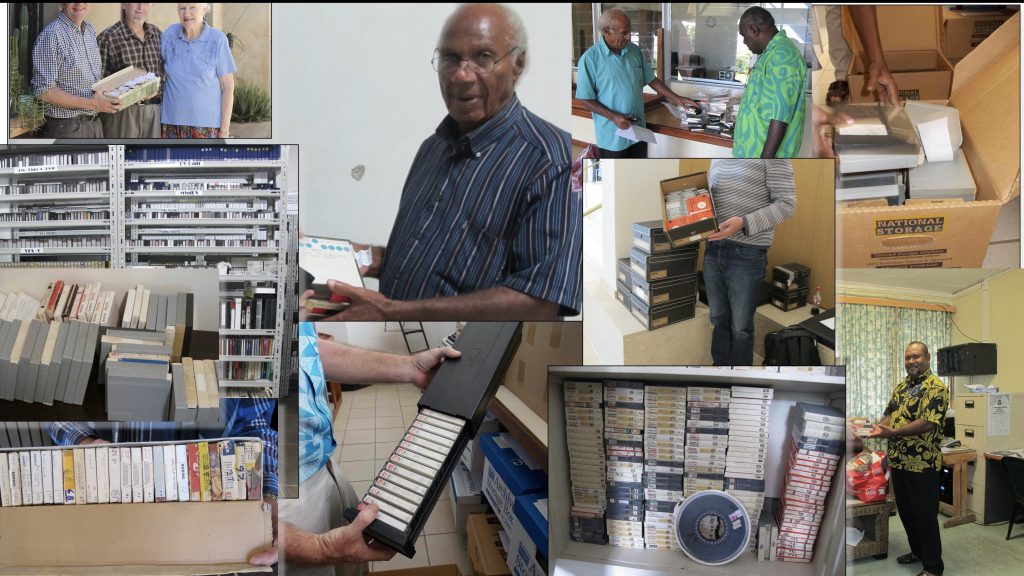 Digitising a tape costs around $150, and more if it needs cleaning and special care. When a collection turns up we need to find funding to care for it. Another collection we worked with recently was Ian Frazer's To'aba'ita (Solomon Islands) recordings comprising 376 items, and representing a detailed ethnographic collection of recordings for a language that otherwise has no recordings available (although there is a fine grammar and dictionary written by Frank Lichtenberk), see the listing in OLAC here. We had a Legacy Materials Grant from the Endangered Languages Documentation Programme to do this work.
And, most recently, we worked on Bob Tonkinson's 58 tapes from Vanuatu , recorded since the 1960s. The files will go to the Vanuatu Cultural Centre and be available via our catalog. Other tapes in the queue are Helen Wurm's recordings from Arnhemland, Edith Bavin's Warlpiri recordings from the 1980s, and Neil Bell's central Australian recordings. Work on these will be funded by the ARC Centre of Excellence for the Dynamics of Language but, as tapes keep turning up, we will need to find funds to keep digitising them.
Donations to PARADISEC (Inc) are tax-deductible in Australia.