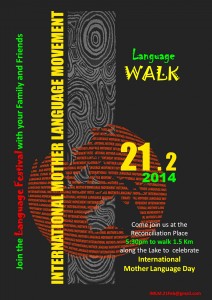 A perfect blue sky and cool summer weather for Australia's first International Mother Language Day (IMLD) 2014 walk. We walked from Reconcilation Place across the Kings Avenue Bridge to a Canberra park, where people sang, ate sausages, jumped on a bouncy castle, read poems in Bangla and Telugu, and generally had a good time. People from all sorts of backgrounds – Nigeria, Spain, Bangladesh, and Chris Bourke, ACT's first Indigenous member of parliament.
This is the first time our heritage Indigenous and immigrant languages have been celebrated in this way, and it's a great initiative of Canberra's IMLD group.
Elsewhere in the world..
The Dhaka Times writes about the life and death of Rafiqul Islam, the man they say really pushed for the recognition of IMLD (Ekushey).
The Cherokee Nation honoured Cherokee translators who "work with technology companies, museums and universities to translate everything from documents to programs" and also a recent project to add Cherokee on Microsoft's Office Online.
In Canada a private members bill has been introduced to get the government to recognise IMLD.
Sadly, in Iran Umid Niayesh reports: "
Tens of Iranian Azerbaijani cultural activists have been arrested in the city of Ahar in the East Azerbaijan province of Iran ahead of International Mother Language Day, the Association for the Defense of Azerbaijani Political Prisoners in Iran (ADAPP) reported on Feb. 20. The report has published names of some 60 arrested civil activists which were gathered in a home in Ahar.
Ebrahim Rashidi and Abbas Lesani who have been arrested several times due to their civil rights and mother language activities are among the arrested persons."
And sadly in Kushtia in Bangladesh there was vandalisation of a Shaheed Minar monument built in memory of the mother language protesters whose deaths on 21 February 1952 led to this day being chosen for IMLD.
And to add to the gloom, back in Australia, we have the draft report
Review of Indigenous Education in the Northern Territory. It is written by Bruce Wilson, director of a company 'Education Business'. Major recommendations are that Indigenous students in the Northern Territory should be taught in English right from the start, and that for secondary schooling children from remote communities should go to boarding schools in the few big cities. The report does not tackle the fact that both strategies have been tried in the past, and have not worked. Munanga has posts detailing his concerns. You can send in a submission relating to this draft report. Submission deadline is 4.30 pm March 9.
But anyway, the couple of hours in the sunlight celebrating IMLD were great.