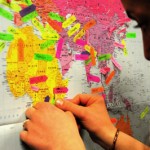 As in previous years (see here, here and here), we will be running a week of activities concerning endangered languages at SOAS this year. Endangered Languages Week 2011 (ELW2011) runs from 9th to 14th May, and includes a host of events:
The highlight of the week will undoubtedly be Open Day on Thursday 12th May when 15 exhibitors will be involved throughout the day, including the British Library, Smithsonian Institution, other research organisations, and a number of major book publishers. MA and BA students in the ELAP and Linguistics programmes at SOAS will present an exhibition on the dialects and varieties of languages spoken in London, including those spoken at SOAS. Through this we aim to focus on the speakers of the languages, to seek their views on their language and what living in London as a speaker of that language means to them.
In the run up to ELW2011 next week the students will be running an information booth in the foyer of the main building at SOAS, inviting people to locate their languages on a map and to make short recordings of favourite words, short texts, sayings, poems or songs in their language. If you happen to be in London do drop by, or come and participate in our activities in May.