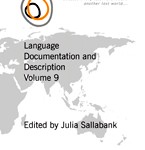 The ninth volume of Language Documentation and Description is now in production and can be pre-ordered for 20% off the regular price. LDD 9 is a collection of papers dealing with several topics in language documentation:
language documentation and sustainability
ontologies in language documentation
negation, deixis and loan words in endangered languages
book reviews
The papers on the first topic arise from a workshop held at SOAS in February 2010, while the remainder are by post-doctoral fellows, visitors and former students at SOAS. The papers represent important contributions to the theory and practice of the field of language documentation by leading scholars and younger researchers. The volume will be of interest to anyone concerned with documenting and describing languages. It will be published on 1st June 2011 and is available as a special pre-publication order offer of 20% discount until 31 May 2011 (£10.00).
Contents
Editor's Introduction – Julia Sallabank
On thin ice: Culture and environment in the Arctic – Lenore Grenoble
Building language habitats: Connecting language planning and land planning for sustainable futures – Christine Schreyer
Social change and language revitalization in the Isle of Man – Gary Wilson
Ontologies in language documentation – Steve Pepper
On borrowed time? The increase of Bislama loan words in Bierebo – Peter Budd
Aspects of deixis in Cicipu – Stuart McGill
Making sense of negation in multi-predicate constructions – Oliver Bond
Origins of the 2nd singular generic impersonal pronoun – John Haiman, Bernd Heine, and Tania Kuteva
Book reviews – Peter K. Austin, Julia Sallabank
Copies of LDD can be pre-ordered online through the SOAS bookstore http://www.bitly.com/LDDstore