I just received copies from the publishers of a new book that may be of interest to readers of this blog. It is called 1000 Languages: The Worldwide History of Living and Lost Tongues and is edited by yours truly. The book was published by Thames and Hudson in the UK and associated countries, and by University of California Press in the US. It is available on UK Amazon, or readers in the UK can get it for an even cheaper price via the Tesco on-line store.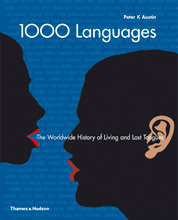 The book is issued in hard cover and runs to over 300 pages and includes over 400 colour illustrations, a series of maps, a glossary of linguistic terms, and a list of references. It is organised topically by geographical regions and each chapter explores the sources, interrelationships and characteristics of that region's languages, including the major and minor ones of the area. It includes chapters on the topical issues of endangered and extinct languages. Each main entry details numbers of speakers, geographical spread, growth, development and key features of the language. The following is a list of the chapters and authors:

Introduction — Peter K. Austin
World Languages — Nicholas Ostler
Europe — Glanville Price
West and North Africa — Phil Jaggar and Friederike Luepke
Central, East and Southern Africa — Nancy Kula and Lutz Marten
South Asia — Anju Saxena
Central, Western and Northern Asia — Kagan Arik
East and South East Asia — David Bradley
Pacific and Australia — Nick Thieberger and Rachel Nordlinger
North, Central and South America — Nicholas Ostler and Jose Antonio Flores Farfan [.pdf]
Endangered Languages — Lenore Grenoble
Extinct Languages — Nicholas Ostler
According to Andrew Robinson's review on page 55 of the 18th June 2008 issue of New Scientist, "for anyone fascinated by the diversity of the world's rapidly vanishing languages, here is an account to relish". Robinson's review says the book is "an authoritative and copiously illustrated global survey" and concludes that "1000 Languages is an accessible and fascinating reference source, ideal for polyglot dipping"
I guess I'm biased but I think it would make an ideal book for friends, relatives and students interested in an accurate and accessible account of the diversity of the world's languages.