At the Australian Languages Workshop 2008 held in March at the ANU field station at Kioloa (recounted in Jane Simpson's blog post) there was an after-dinner quiz organised by Harold Koch. It consisted of a series of trivial pursuit style questions to identify scholars who had published on Australian Aboriginal languages (some recent, some not so recent). The questions went something like this (some of these are ones I remember from Harold's quiz, others I have made up):
Identify the following six people each of whom published on Australian Aboriginal languages and:
also wrote a book on scurvy in sheep
published on middle-Indo-Aryan under another name
prepared a handbook for coroners
was a jackaroo on a station in the north-west of Western Australia
is an expert in Ergodic Theory and has published a book on Multidimensional Continued Fractions
spent time in an Australian internment camp as a Nazi spy during the second world war
The answers to most of these questions are to be found in a new 526 page book published this month by Pacific Linguistics and edited by William B. McGregor entitled Encountering Aboriginal languages: Studies in the history of Australian linguistics. My copy just arrived in London and I am having trouble putting it down, the contents are so interesting.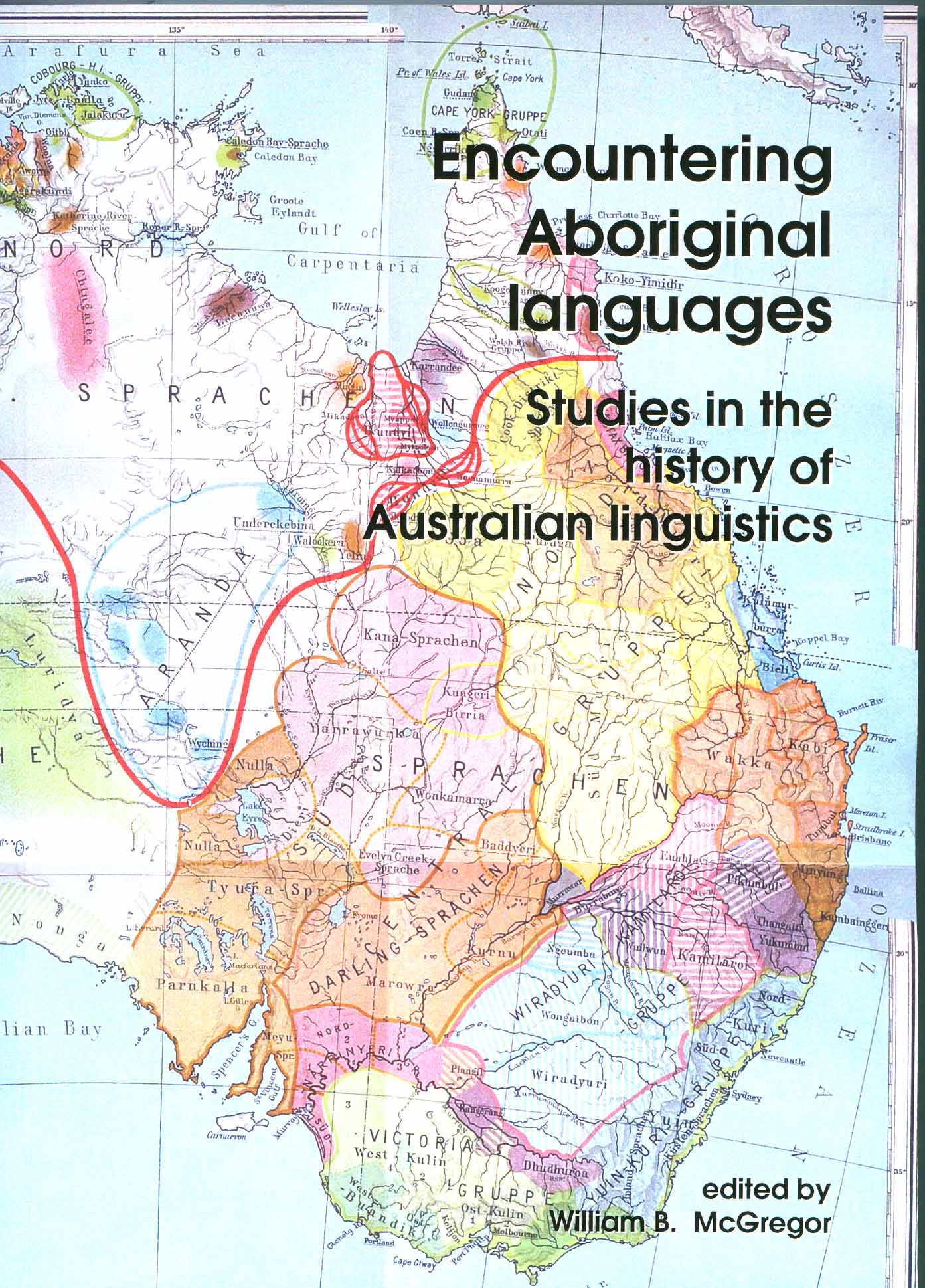 The book is a collage of historical studies of languages and regions, people and particular linguistic topics (the Table of Contents can be found here [pdf]). As the PL book blurb says:
"Part 1 presents three detailed investigations of the history of work on particular languages and regions. The eight papers of Part 2 study and re-evaluate the contributions of particular individuals, most of who are somewhat marginal or have been marginalised in Aboriginal linguistics. Part 3 consists of six studies specific linguistic topics: sign language research, language revival, pidgins and creoles, fieldwork, Fr. Schmidt's work on personal pronouns, and the discovery that Australia was a multilingual continent."
Bill McGregor points out on page 1 of his overview introduction:
"In Australianist linguistics the main motivations for delving into the past have been not so much to understand the ideas and conceptualisations of past investigators as to utilise and evaluate the language data they recorded … Little serious attempt has been made to reconstruct the thought of earlier times, arguably the primary goal of the history of science … or to understand the work of previous investigators within their social and intellectual milieus"
As Bill notes, the period 1910-1960 has previously been presented as the "dark ages" of Aboriginal linguistics, when virtually no proper linguistic work was done. Many of the contributions to this volume show that this is simply not true and point the way to a re-evaluation and proper historicisation of work in Australia. It is to be hoped that this is just the beginning of a whole new research trend into the history of study of Australia's indigenous languages. (Unfortunately the A$121 price of the book means that it probably won't end up in the collections of too many individuals.) Bill and colleagues Hilary Carey and David Moore have opened the way with the formation of the Society for the History of Linguistics in the Pacific which will hold its inaugural conference in Canberra on 1st August this year.
Although there is no chapter in the book specifically on the work of R.M.W. Dixon, former Director of the Research Centre for Linguistic Typology at La Trobe University, his presence and influence on the history and directions of linguistics in Australia since the 1970's permeate the volume in a number of ways. In the Name Index, with 40 references, his is the second longest entry (after Arthur Capell with 47 references), and ten of the authors (myself included) studied or taught at ANU during his tenure there. Perhaps it seems too close for some of us who lived through it but a proper historiographic study of Dixon's work and the "social and intellectual milieu" of the last 40 years of Australian Aboriginal linguistics is now due.
---
PS: No prizes, but readers who can identify the six individuals in the quiz are encouraged to leave their answers in the comments below.