The published Barcoo River (Queensland) expedition diary of explorer Edmund Kennedy (1852) was augmented with unpublished manuscript sources and republished by Edgar Beale (1983). In the context of the present paper the key augmentation came from a handwritten copy of Kennedy's journal for the period 01 April 1847 to 24 January 1848 made by Rev W.B. Clarke, and held by the Royal Geographical Society of London (RGS, see Beale 1983:96-97).
In an entry for 01 October 1847, Kennedy reported an encounter with Aboriginal people who were 'without exception the most friendly and best behaved Natives I met with on the journey'. According to the RGS manuscript, Kennedy recorded:
We obtained from this party some useful words, which are correctly written, according to their sounds, River Victoria,1 "Barcoo"; Water, "Ammoo"; Grass, "Oo-lo-noo"; Fire, "Poordie" &c. (Beale 1983:142)
It is a pity that the rest of the list has not so far surfaced.
The exploring party's #10 camp location on 1 October 1847 was marked on Kennedy's map (Beale 1983: endpapers) as being on a tributary of the 'Victoria R (Barcoo)' just north of the 'Gowen Range' (spelled Gowan Range on modern maps, see Map 2 below). This range is about 100km west of modern Tambo.
Wordlists published in Curr (1887) included three close dialects from the same region, whose vocabularies were tabulated by Breen (1990:92-96) under the rubric of convenience 'Yandjibara'.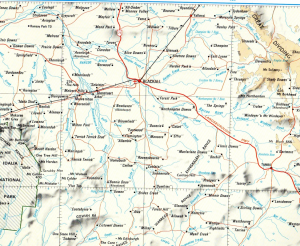 One (Ahern 1887) was identified as the language of the 'Yangeeberra' tribe, and titled 'No. 153 – The Barcoo River, 40 miles west of Blackall', Forty miles is about 65 kilometres. Thornleigh Creek is 65km west of Blackall and is an upper tributary of the Barcoo River (see Map 1).
The other wordlists in Curr (1887) were: 'No. 154. – Blackall – Barcoo River' (Dudley & Williams 1887) and 'No. 155 – Mount Enniskillen' (Crombie 1887). Mount Enniskillen is north-west of Tambo and about 80km from the Gowan Range. Blackall is about 100km north-west of Tambo. See the map by Breen (1990:65, here Map 2) reproduced below.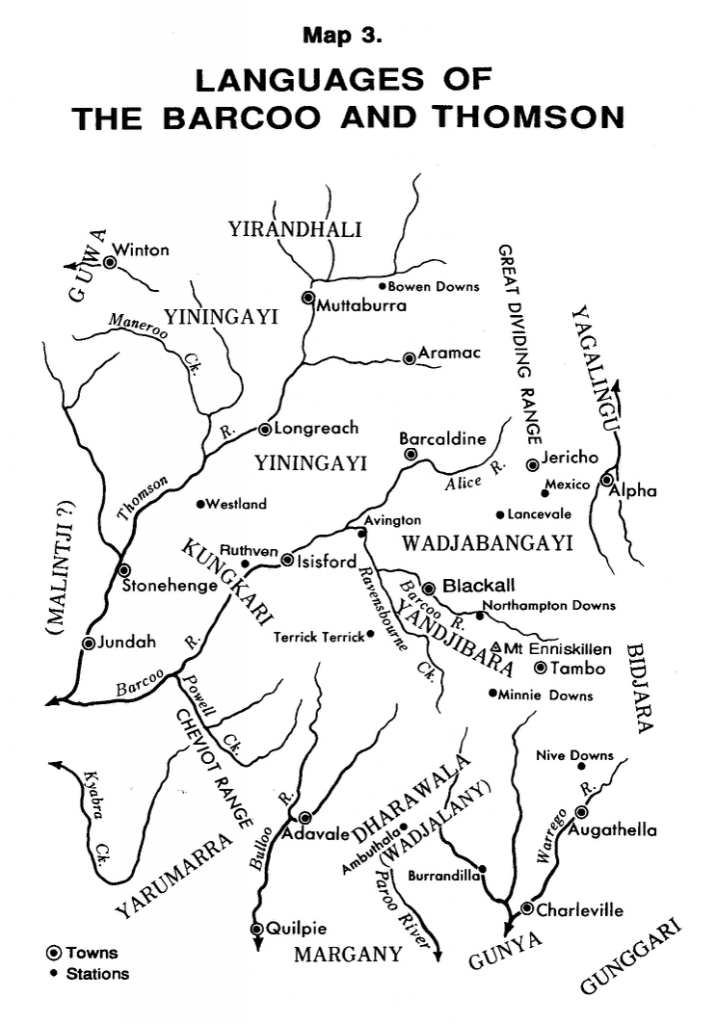 Breen, presenting the relevant linguistic data from Curr under the common identifier Yandjibara, used a non-linguistic term of some kind that ends in the widespread denizen-of suffix –barra.2 Breen expressed some doubt as to the closeness of the three as a single dialect (1990:69).
Breen's treatment did not include the tiny wordlist recorded by Kennedy in 1847, so for the sake of completeness I present it here, along with the other three original sources and Breen's suggested phonemicisations of the latter, with which I agree. This sample, though tiny, does compound the picture in which this particular variety of Maric was local to the general area of the Hope Creek, Bride Creek and Ravensbourne Creek reaches of the upper Barcoo system.
| | | | | | |
| --- | --- | --- | --- | --- | --- |
| | Kennedy 1847 | Yangeeberra 1887 | Blackall 1887 | Mt Enniskillen 1887 | Breen 1990 |
| River Victoria | Barcoo | – | – | – | – |
| water | ammoo | awo3 | ammo | amoo | amu |
| grass | oo-lo-noo4 | undo | woothanoo | oonoo | wudhunu, un(h)u? |
| fire | poordie | boorie | boree | boori | buri, burdi? |
Discussion
'Barcoo' is likely to have been bagu or barrgu and meaning 'river' rather than a toponym, in my view, though this is just an educated guess. As a general rule, Australian rivers as a whole are not named per se in Aboriginal languages. Unfortunately we don't have the word for 'river' in the older sources for this Yandjibara area. I am sceptical about the translation of Barcoo given by a source cited in Breen (1990:105) as 'Ice on the water in cold weather'.
David Nash (pers. comm. 01 June 2017) has drawn my attention to several possible cognates for 'barcoo': bāga ('river, the Darling River in particular', Baagandji, Hercus 1982:276); baawan ('Darling River', Ngiyambaa, Donaldson 1980:xxx, 315), and pakurr (Bates's 'bagur', 'river', Mayi-Yapi, see Breen 1981:193).
To these might be added pawur ('river', Bunganditj, Blake 2003:98); baga ('river bank') and bagay ('river', Yuwaalaraay and Gamilaraay, Ash et al 2003:196, 233); barka ('upper arm, branch + by extension: creek', Yolngu Matha, Zorc 1986:15); parru ('river, creek', Muruwari but a loan from Guwamu, Oates 1988:389).; parri ('river', Kaurna, Teichelmann & Schürmann 1840: part II:38); parri ('river', Parnkalla, Schürmann 1844 part II:54); baRi ('creek', Wirangu, Miller et al 2010:100); paRi ('creek', Nukunu, Hercus 1992:40); barra ('river', the Colac Language, Blake, Clark & Reid 1998:172); and perhaps borran-borrak ('river', Wathawurrung, Blake, Clark & Krishna-Pillay 1998:133). The manifold occurrences of biRi = 'river' in Maric dialects may perhaps belong here as well.
Kennedy's little record compounds the evidence for partial initial-dropping in this part of the Maric picture, given amu 'water' descends from *kamu through this process.5 Secondly, Kennedy also compounds the evidence for the hardening of the medial glide /R/ to an apico-domal consonant written by Breen and others as /rd/, here in the case of burdi 'fire'.
References
Ahern, John 1887. No. 153. –  The Barcoo River, 40 miles west of Blackall. Pp74-75 in Curr (1887).
Ash, Anna, John Giacon & Amanda Lissarague 2003. Gamilaraay, Yuwaalaraay, & Yuwaalayaay Dictionary. Alice Springs: IAD Press.
Beale, Edgar 1983. Kennedy the Barcoo and Beyond. The Journals of Edmund Besley Kennedy and Alfred Allatson Turner with new information on Kennedy's life. Hobart: Blubber Head Press.
Blake, Barry J. 2003. The Bunganditj (Buwandik) Language of the Mount Gambier Region. Canberra: Pacific Linguistics.
Blake, Barry J, Ian Clark & Sharnthi H. Krishna-Pillay 1998. Wathawurrung: the language of the Geelong-Ballarat area, pp59-154 in Barry J. Blake (ed), Wathawurrung and the Colac Language of Southern Victoria. Canberra: Pacific Linguistics.
Blake, Barry J., Ian Clark & Julie Reid 1998. The Colac language, pp155-177 in Barry J. Blake (ed), Wathawurrung and the Colac Language of Southern Victoria. Canberra: Pacific Linguistics.
Breen, Gavan 1981. The Mayi Languages of the Queensland Gulf Country. Canberra: Australian Institute of Aboriginal Studies.
Breen, Gavan 1990. Salvage Studies of Western Queensland Aboriginal Languages. Canberra: Pacific Linguistics.
Crombie, James 1887. No. 155. – Mount Enniskillen. Pp88-89 in Curr (1887).
Curr, Edward M. 1887. The Australian Race: its Origin, Languages, Customs, Place of Landing in Australia, and the Routes by which it Spread itself over that Continent. Volume III. Melbourne: John Ferres, Government Printer. London: Trübner and Co.
Dixon, R.M.W. 2002. Australian Languages: Their Nature and Development. Cambridge: Cambridge University Press.
Donaldson, Tamsin 1980. Ngiyambaa: the Language of the Wangaaybuwan. Cambridge: Cambridge University Press.
Dudley, Joseph L., & T.S. Williams 1887. No. 154. – Blackall – Barcoo River. Pp76-77 in Curr (1887).
Hercus, L.A. 1982. The Bāgandji Language. Canberra: Pacific Lingustics.
Hercus, L. A. 1992. A Nukunu Dictionary. Canberra: The Author.
[Kennedy, Edmund B.C.] 1852. Extracts from the journal of an exploring expedition into Central Australia, to determine the course of the River Barcoo (or the Victoria of Sir T.L. Mitchell). Journal of the Royal Geographical Society of London 22:228-280.
Miller, Gladys, L.A. Hercus, Paul Monaghan & Petter Naessan 2010. A Dictionary of the Wirangu Language of the Far West Coast of South Australia. Adelaide: Tjutjunaku Worka Tjuta Inc. & the University of Adelaide.
Oates, Lynette F. 1988. The Muruwari Language. Canberra: Pacific Linguistics.
Reader's Digest 1994. Reader's Digest Atlas of Australia. Surry Hills (Sydney): Reader's Digest (Australia).
Schürmann, C. W. 1844. Vocabulary of the Parnkalla Language Spoken by the Natives Inhabiting the Western Shores of Spencer's Gulf. To which is Prefixed a Collection of Grammatical Rules Hitherto Ascertained. Adelaide: George Dehane.
Teichlmann, C.G., & C.W. Schürmann 1840. Outlines of a Grammar, Vocabulary, and Phraseology, of the Aboriginal Language of South Australia, Spoken by the Natives in and for Some Distance Around Adelaide. Adelaide: Published by the Authors at the Native Location.
Zorc, R. David 1986. Yolŋu-matha Dictionary. Darwin: School of Australian Linguistics.
---
Notes