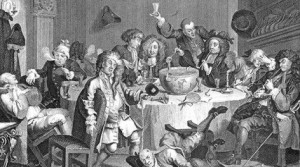 [note: we expect a better gender balance in 2014]
Canberra Linguistics in the Pub [from Piers Kelly]
7.45pm, Sunday 23 November 2014
The Castle Room, King O'Malley's 131 City Walk, Canberra.
No need to register but it may be helpful to click 'join' on this page so we get a sense of numbers. We already have a great bunch of interstate and international language people coming so it promises to be fun.

Myths, memories and microhistories: Analysing narrative in language documentation
Fieldworkers who collect linguistic data often end up recording stories that are particular to their field site or which have a special significance for the speakers of the language under analysis.

Stories may take the form of stylised traditional narratives that are sung or recited by respected narrators. More often, perhaps, they take the shape of informal commentaries on past events in the community, and personal histories.

This Linguistics in the Pub is an opportunity to discuss some of the challenges and benefits of collecting narratives in the process of language documentation.

What genres of narrative do linguists collect?
In what ways might speakers choose to make use of the documented narratives at a later time? Eg, land claims, family histories, syllabus development, cultural/linguistic revitalisation? What are the risks and rewards?
How might other scholars — folklorists, oral historians, ethnographers — analyse the same narratives after they have been documented? Do linguists need to be aware of methods or standards in narrative documentation to make this material more accessible?
Is it hard to extract good 'naturalistic' language data from narratives?
Linguistics in the Pub is a casual event with no planned speakers, program schedules or guest lists. There is no need to 'be a linguist' to participate.
King O'Malley's is a fake Irish pub named after a fake Canadian who enacted prohibition in Canberra between 1911 and 1928. Read about him here.