Today is 12 years since an unnamed boat sank on the way to Australia. The boat became known as SIEV X (Suspected Illegal Entry Vessel, Unknown). At least 146 children, 142 women and 65 men from Iraq and Afghanistan drowned; their names are tracked on a non-official website. The voices of the survivors are rarely heard: Ahmed Al-Zalimi here, Faris Shohani here.
A writer, Arnold Zable, calls for 19 October as an annual national day of mourning in today's Canberra Times (Forum p.2).
We have a non-official SIEV-X memorial in Canberra; it was devised by 300+ groups, schools and churches who felt and feel grief at that tragedy and the continuing tragedies. The memorial survives thanks to the ACT Government.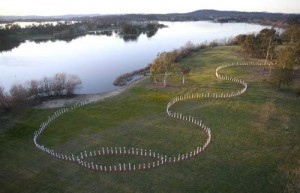 Lest we forget non-officially.