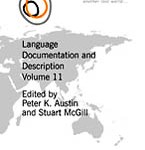 Volume 11 of Language Documentation and Description is now available for pre-publication order from the SOAS online store at GBP 10, a 25% discount off the regular price. Copies will be shipped in early December.
Volume 11 is edited by Peter K. Austin and Stuart McGill and is a collection of papers dealing with several topics in language documentation and description:
applied language documentation in sub-Saharan Africa
state-of-the art in Aslian language documentation
description of Sasak verb morphology
The first set of papers arise from a workshop held at SOAS in May 2011; two others were written for this volume. They represent important contributions to the theory and practice of the field of language documentation and description by leading scholars and younger researchers.
The volume will be of interest to anyone concerned with documenting and describing languages, and the application of language documentation principles within communities. In addition, Geoffrey Benjamin's extended account of the state-of-the art in documentation and description of Aslian languages will be of interest to anyone wishing to know more about this fascinating sub-group of Mon-Khmer. The contents are:
Editor's Introduction – Peter K. Austin & Stuart McGill
'Community' collaboration in Africa: Experiences from Northwest Cameroon – Jeff Good
Building community participation into documentation design: lessons learned in Sakun (Sukur) – Michael F. Thomas
Ju|'hoan and ǂX'ao-ǁ'aen documentation in Namibia: overcoming obstacles to community-based language documentation – Megan Biesele, Lee Pratchett & Taesun Moon
Documentation, development, and ideology in the northwestern Kainji languages – Stuart McGill & Roger Blench
The Aslian languages of Malaysia and Thailand: an assessment – Geoffrey Benjamin
Too many nasal verbs: dialect variation in the voice system of Sasak – Peter K. Austin
To celebrate the publication of LDD 11 we are reducing the price of all LDD volumes by 25% for a limited time only. In addition, in time for Christmas/Hannukah/Kwanzaa/New Year we are offering a special package of all 11 volumes of LDD for GBP 100, a 30% reduction off the usual price.