Over the last year or so, the Paradisec team, in collaboration with software developers Robot Parade, Silvia Pfeiffer and John Ferlito, have been working on the development of a replacement to our ageing catalogue and database systems and a couple of weeks ago, this work culminated in the release of the new catalogue.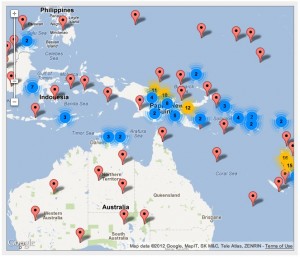 There are several features of the software that represent a vast improvement over the previous catalogue, including a much simpler search function, for both collections and individual items, a Google Maps API as a way of exploring data (shown here) and, most usefully for our depositors, the ability to play their own files straight through the browser, or download them directly from the archive.
At the same time, the Paradisec team have been working with the Australian National Data Service (ANDS) to provide collection-level metadata to Research Data Australia (RDA) a federal initiative to aggregate metadata from research around the country using a standard metadata format and make it searchable and discoverable via the RDA website. The new catalogue automates this process, so that when a collection has the required metadata to maximise discoverability, it is harvested by RDA and appears in their database. As such it is important that depositors, or managers of others' data, provide as rich metadata as possible.
While the software is still undergoing some post-release bug fixes and improvements, we welcome the public to explore the breadth and depth of data in the collection. Access to data itself however, is restricted to collectors and managers of those collections in line with Paradisec policy. Access to other people's data is subject to access conditions.
We encourage interested readers to explore the collection, and we especially invite collectors of relevant data to get in contact with us to investigate depositing their collections with us for safekeeping.