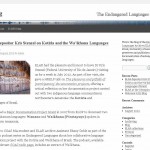 Readers may like to check out and subscribe to a new blog that went live today: EL Blog from the Endangered Languages Archive (ELAR) at SOAS, University of London.
This new blog:
"will add to [ELAR's] support of collaboration between collection depositors and users by providing an additional platform for sharing information and advice. EL blog will include regular posts from ELAR staff; guest posts from depositors, archive assistants, and other interested people are also welcome. Topics will include ELAR's collections, ELAR staff members' activities, archiving and data management methods, language documentation, and many more. If you would like to contribute a post, please contact the blog administrator."
The first couple of posts are representative of what is to come: staff activities and report on a visit and presentation last month by ELAR depositor Dr Kris Stenzel (Federal University of Rio de Janeiro).
Why not have a read, subscribe, and comment on the posts?