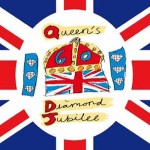 Most of the UK seems to have been distracted over the past few weeks (and especially over the four-day long weekend that is just now drawing to an end) by the celebrations surrounding the Diamond Jubilee of Queen Elizabeth II.
Not so the hard working team at the Endangered Languages Archive (ELAR) at SOAS who have been curating and processing materials to add to our website.
In the past week the following nine deposits (in alphabetical order) have been added:
In addition to this we have also been working on our "person pages" on the ELAR website. Since ELAR first went online each depositor has been provided with a basic home page giving information about themselves, including links to their ELDP project information (if they are a grantee), their personal web site etc. (see for example Claire Bowern's depositor page). We are now extending this to all registered users of the ELAR archive who are being invited to set up and edit their own information (see my user page as a sample — there is even a picture hidden in one of the tabs!). In this way we are adding more social context to archive depositing and use. So, for example, if a user requests access to materials with the protocol of "S" (subscriber only) the depositor can access the details on their ELAR user page in order to assist in deciding if this is an appropriate person to be given access to the requested materials (in the parlance of residents in my local area in London it could help figuring out whether 'e's a dimond geezer or not). We are planning further developments in this area in the near future that we will report on when they are ready to go live.