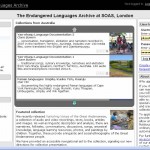 If you are interested in Australian Aboriginal languages you might like to take at look at the growing number of collections of audio, video and text materials that are now available in the ELAR archive.
Currently there are six online collections (comprising almost 900 file bundles) for languages from northern Australia, with one more from central Australia that we are currently working on, and several others queued for processing. The following is a brief listing of what is available right now:
We have recently received Carmel O'Shannessy's Traditional Warlpiri songs from Central Australia — six traditional Warlpiri love songs, called yilpinji, sung by Teddy Morrison Jupurrurla (transcribed and translated video and audio files) and two ceremonial initiation songs, sung by Peter Dixon Japanangka and a group of elder men (video and audio files). This collection is being curated and will be available on the ELAR website soon.
Several other Australian Aboriginal collections have been received from depositors and are being curated for addition to our archive. News about them will be circulated when they are available online.