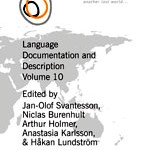 Volume 10 of Language Documentation and Description is now available for purchase from the SOAS online store. Until 31 January 2012 copies may be ordered for £10 (including postage and packaging), which is 25% off the regular retail price.
Volume 10 is edited by Jan-Olof Svantesson, Niclas Burenhult, Arthur Holmer, Anastasia Karlsson and Håkan Lundström, and is a special collection of papers dealing with:
• language and music
• prosody
• grammar and meaning
The papers arise from a conference held at Lund University in September 2010, and represent important contributions to the theory and practice of the field of language documentation by leading scholars and younger researchers. The volume is of interest to anyone concerned with documenting and describing languages.
The contents are:
Introduction — Jan-Olof Svantesson, Niclas Burenhult, Arthur Holmer, Anastasia Karlsson and Håkan Lundström
Song-poetry of Central Australia: sustaining traditions — Myfany Turpin
Language and music in the songs of Minto, Alaska — Siri G. Tuttle
Tone in speech and singing: a field experiment to research their relation in endangered languages of North East India — Stephen Morey & Jürgen Schöpf
Conversation in Upper Tanana Athabascan: syntactic and prosodic patterns — Olga Lovick & Siri G. Tuttle
Intonation in Ryukyuan: with reference to modality, syntax, and focus — Yasuko Nagano-Madsen
The Wichita pitch phoneme: a first look — David S. Rood
Assessing music shift: adapting EGIDS for a Papua New Guinea community — Neil R. Coulter
Elusive articles in Sulawesi: between syntax and prosody — René van den Berg
Exploiting syntax to circumvent morphology: word order as a means for marking grammatical categories — Cynthia I. A. Hansen
The increasing importance of animacy in the agreement systems of Ndengeleko and other Southern Coastal Bantu languages — Eva-Marie Ström
The perception verbs in Lussese (Bantu J10): a matter of experience — Marilena Thanassoula
Main clause TAM-marking in Ngarla (Pama-Nyungan), in comparison with two neighbouring languages — Torbjörn Westerlund
Grammaticalization of tense and aspect in Mbugwe: a preliminary investigation — Vera Wilhelmsen
The volume of 330 pages is accompanied by a CD with 31 sound files referenced in the papers on language and music, and language and prosody.