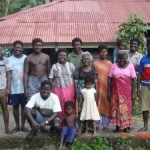 Tuesday 13th December saw the launch at the Endangered Languages Archive (ELAR) at SOAS of the archival deposit of Great Andamanese language materials submitted by Anvita Abbi, who is currently Leverhulme Visiting Professor in the Endangered Languages Academic Programme.
This deposit is a unique record of this highly endangered language which has just 5 remaining speakers, and consists of thousands of files of audio, video and text materials, including a trilingual dictionary. Professor Abbi has made her materials freely available to all registered subscribers at ELAR. There is also a small selection of audio and video recordings that can be accessed by anyone without registration, and curation assistant and PhD student Sandy Ritchie has written a hierarchically structured and classified table of contents with links to relevant parts of the deposit. This includes links to materials created for the Great Andamanese community, such as a picture book containing "glimpses of the Great Andamanese life through pictures and songs" and a Devanagari-based book of letters.
We hope that readers will take the opportunity to register at ELAR (if they have not already done so), and browse, view and download these fascinating and unique materials.