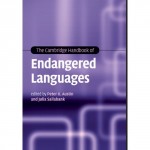 The Cambridge Handbook of Endangered Languages edited by Julia Sallabank and myself will be available in the UK next week (and in Australia in June). The book is being launched by Mari Jones at the conference on Language Endangerment: Documentation, Pedagogy, and Revitalization at Cambridge on 25th March.
The Handbook covers issues in linguistic diversity and language endangerment, language documentation and archiving, revitalisation and language support, and challenges faced by endangered languages now and in the future. The volume is intended to be accessible both to specialists and non-specialists: researchers will find cutting-edge contributions from acknowledged experts in their fields, while students, activists and other interested readers will find a wealth of readable yet thorough and up-to-date information.
The chapters in the Handbook are as follows:
Introduction – Peter K. Austin and Julia Sallabank
Language ecology and endangerment – Lenore A. Grenoble
Speakers and communities – Colette Grinevald and Michel Bert
A survey of language endangerment – David Bradley
Language contact and change in endangered languages – Carmel O'Shannessy
Structural aspects of language endangerment – Naomi Palosaari and Lyle Campbell
Language and culture – Lev Michael
Language and society – Bernard Spolsky
Language documentation – Anthony C. Woodbury
Speakers and language documentation – Lise M. Dobrin and Josh Berson
Data and language documentation – Jeff Good
Archiving and language documentation – Lisa Conathan
Digital archiving – David Nathan
Language policy for endangered languages – Julia Sallabank
Revitalization of endangered languages – Leanne Hinton
Orthography development – Friederike Lüpke
Lexicography in endangered language communities – Ulrike Mosel
Language curriculum design and evaluation for endangered languages – Serafin M. Coronel-Molina and Teresa L. McCarty
The role of information technology in supporting minority and endangered languages – Gary Holton
Endangered languages and economic development – Wayne Harbert
Researcher training and capacity development in language documentation – Anthony Jukes
New roles for endangered languages – Máiréad Moriarty
Planning a language-documentation project – Claire Bowern
The handbook is completed by an extensive bibliography and indexes of topics and languages.