The documentary linguistics training course DocLing 2011 wrapped up at Tokyo University of Foreign Studies (TUFS) on Thursday last week. This was the fourth annual training course held in Tokyo through collaboration between the Linguistic Dynamics project of the Research Institute for Languages and Cultures of Asia and Africa (ILCAA) and the Hans Rausing Endangered Languages Project (HRELP) at SOAS. This year 11 students and researchers (from a range of universities) and 7 staff from ILCAA attended the course. Presentations were given by David Nathan (SOAS), Anthony Jukes (La Trobe), Hideo Sawada (ILCAA), Honore Watanabe (ILCAA) and myself.
The course consisted of a mix of lectures, discussions and hands-on practical sessions. This year we tried an experiment of organising the students into three groups, each of which worked with a native speaker of Mongolian (who are studying at universities in Tokyo) on a documentation project exploring linguistic aspects of a particular topic. The goal was for the groups to employ their developing documentation skills through practical application and at the end of the course each group gave a presentation on their project work. Group 1 chose Mongolian songs and documented five songs, creating a website ("beta version") with audio, video and text materials together with metadata about their project. Group 2 worked on riddles and word games, collecting data on two different types, and using ELAN to transcribe and annotate short videos they had recorded. Group 3 focused on the topic of food and recorded a range of Mongolian vocabulary in this domain including details about verbs conjugations, using the verb 'to cook' as an example. At the end of the training course each group gave a 20 minute presentation on their project, covering both its outcomes and meta-documentation of their project work experiences. The three Mongolian native speakers who collaborated with the students also attended the presentations.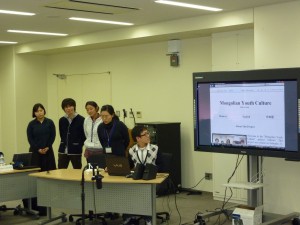 The high quality of the final presentations demonstrating the skills and knowledge the students acquired, along with their reflections on their experiences during the week, showed that this was both an interesting and useful addition to the training course.
The next DocLing training course is scheduled to be held in Tokyo in February 2012.