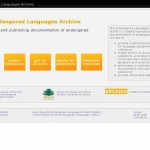 In the past month (since my previous update post) the Endangered Languages Archive (ELAR) at SOAS has been moving ahead with leaps and bounds. We now have 66 deposits available on our website, with six more having been added on Monday this week. There are now 41,690 files available online, amounting to 2 terabytes (2,000 gigabytes) of audio, video, image, text and metadata materials.
Our user group has also jumped and now stands at 545; it has been increasing at the rate of 1 per day for the past month! It is exciting to see the rising numbers of people interested in using the endangered languages materials in ELAR.
This will probably be my last update about ELAR here — that's right, you won't have to read about "ELAR update update update" :-). We have just launched on Twitter (@ELARarchive) and Facebook (ELAR archive) so if you want to keep in touch with our activities in future you can follow us on Twitter or become our Facebook friend. And if you are not already a user do sign up here.