Toksave – Culture Talks
The PARADISEC Podcast Series
Produced by Jodie Kell and Steven Gagau
Music and Language are central to identity in Indigenous communities and the return of legacy research recordings can be an emotional and exciting rediscovery of the past, contributing to the continuation of cultural practices.
This is where the archived records of the past have life breathed back into them once again!
Thanks to the ARC Centre of Excellence for the Dynamics of Language for their support of this project

Toksave Launch Party – November 2019
On 14 November 2019, PARADISEC officially launched the Toksave Podcast series. With the kind support of Verge Gallery at University of Sydney, and featuring talks from some of the interviewees from the first episodes of the podcast, as well as performances from Black Birds and the Barayagal Choir, the evening event showcased the richness and value of PARADISEC's preservation work. Rounding out the cultural offerings, guests were treated to a Fijian style buffet feast catered by Lomani Vale Events.
PARADISEC thanks everyone involved in this successful launch party event!
Film by Daniel Ulaiwi
Music by George Telek
Episode 1
Trobriand Islands, PNG: Our Culture is Just a Heartbeat
Grace Hull joins Jodie and Steven to talk about the RL1 collection recorded by Ralph Lawton in the Trobriand Islands, off the east coast of Papua New Guinea. Grace may live far from the village where she grew up, but she carries the village in her heart and this is very apparent as she shares her knowledge of Trobriand music and culture and comments on the value of these recordings.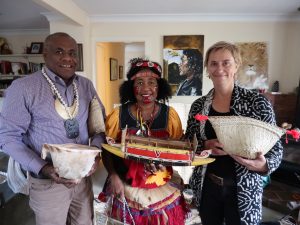 Steven Gagau, Grace Hull and Jodie Kell
Episode 2
Rabaul, PNG: The Researcher and the Tolai
When Sydney Conservatorium Associate Professor Michael Webb met Steven Gagau, they quickly realised they had Tolai connections and Tok Pisin language in common. It turns out that Michael did his PhD research in the Rabaul region where Steven is originally from. As PARADISEC digitised and archived MW6, Michael's collection of tapes and videos, Steven found himself wearing different hats as archivist and community member. Listen in to the conversation between the researcher and the Tolai.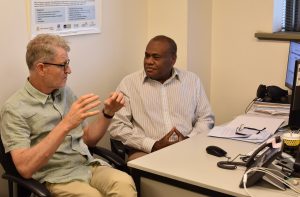 Michael Webb with Steven Gagau
Episode 3
Rabaul, PNG: The Music
Following on from Episode 2, this podcast is a kind of blindfold test as we listen to a range of musical examples Steven Gagau has chosen from the MW6 collection, recordings musicologist Michael Webb has not heard for 25 years. The ensuing conversation highlights the diversity and creative breadth of Tolai musical practices and their connection to the history and identity of the Tolai people.
Michael Webb joins members of the Narox Band from Duke of York Islands in Rabaul 1993 at a video shoot for their song 'Tinora'. He wears traditional bilas (dance decoration/dress) and at the studio created the sax and trumpet riff for the song and played it on keyboard, then mimed it at the video shoot.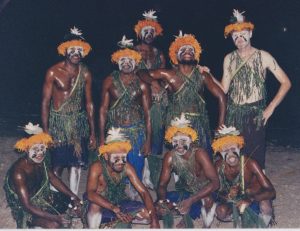 Michael Webb with Narox Band of Rabaul
Episode 4
Papunya, Australia: Just like a storybook
We are transported to the Western Desert of Central Australia as Pintupi-Luritja woman Linda Tjungkata Anderson listens to her father Nosepeg Tjupurrula singing songs from the Wanji Wanji public song set recorded by musicologist Professor Richard Moyle in 1976. These legacy recordings, held at AIATSIS in Canberra, were taken back to the community in 2018 by Dr Myfany Turpin. Linda's interview is archived in MMT1, a PARADISEC collection of interviews Myfany has made with descendants of such legacy recordings and the sound of her father's voice and his songs evoke Linda's memories of a time when corroborees were part of everyday life.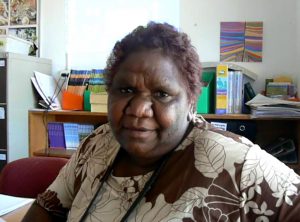 Episode 5
Paama, Vanuatu: This is gold to me
Tom Johnny Obed is a Paamese man living in Sydney. He is an associate of Steven Gagau through the Wantok Association of Sydney, a representative body for Melanesian people living here. Johnny, as he likes to be known, met linguist Terry Crowley during his fieldwork on Paama Island, when Johnny was teaching high school in Vanuatu. Our conversation touches on language, education and music as we discuss Terry's recordings and writings, (collections TC1 through TC11) taking a moment to reflect on the gift he gave Johnny's people.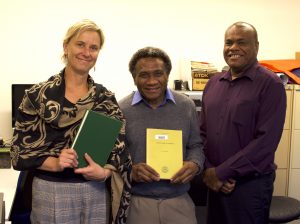 Jodie Kell, Johnny Obed and Steven Gagau