Pacific and Regional Archive for Digital Sources in Endangered Cultures
A race against time to digitise analog records of materials from endangered cultures from all over the world.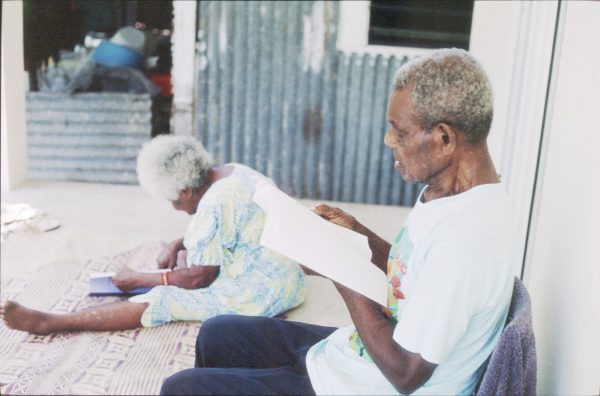 A conference celebrating the achievement of 100 terabytes in the PARADISEC collections.
Conference themes included tributes to PARADISEC's founding Director, Emeritus Professor Linda Barwick; Repatriation and revitalisation; Managing cultural heritage; Technologies and methodologies in archiving and documentation; Approaches to repatriation and community priorities; Podcasting, and more!
Many of the presentations are now available to view on the PARADISEC Youtube Channel. More information on the conference is here →
Toksave: Culture Talks
Join musicologist Jodie Kell and archivist Steven Gagau in a series of interviews with people who have found personal and cultural connections with collections in the archive.
We digitise and archive records of the many small languages of the world. We have worked to ensure that the archive can provide access to interested communities and conforms to international standards for digital archiving. While our original focus was the Asia-Pacific region, we now hold material from all over the world, and currently have over 1,260 languages represented in the collection. This work is now urgent as most analog tapes are not expected to last beyond 2025. We work with cultural centres in the Pacific to support managing and digitising their collections.
At the end of 2020 we hold 13,700 hours of audio recordings, half of which we have found and digitised, the other half is born-digital.
In September 2016 we were given a Special Commendation by the UK's Digital Preservation Awards.
In 2018 we received the University of Melbourne award for excellence in team-based research.
In 2019 we received the international Core Trust Seal  based on the DSA-WDS Core Trustworthy Data Repositories Requirements.
PARADISEC has developed into a major international centre for activities including:
We offer training in linguistic and musicological data management, recording techniques and data linkage.
We build models that show how to make reusable data (metadata entry tools, spreadsheets and so on) and use current tools such as Elan or Fieldworks
We promote cultural preservation by providing backup and data preservation services to cultural agencies in the region (e.g. Institute for PNG Studies, Solomon Islands Museum, local language academies, and the Vanuatu Cultural Centre).
We aim to house files with cultural heritage content that have a research focus from all over the world. We hold items in more than 1,220 languages. We are active in finding new collections to digitise, see our 'Lost and Found' project.
At PARADISEC, our primary motivation is to make field recordings available to those recorded
and their descendants.
Please support our work by helping to fund our ongoing projects.
Donate
Our partners
We are a consortium made up of the University of Sydney, the University of Melbourne and the Australian National University.